Description
Experience in Costa Rica our Canopy/Whitewater Rafting Combo at only 55 minutes of San Jose.
Visit the adventure of canopy safer of Costa Rica and it crosses the hanging gardens of Rainy forest, while it cross a river Molinete accompanied by ours experienced guides.
Our experience of Canopy counts on double double cable and pulley. At any moment, you will be using equipment of highest quality and security, designed, specifically, for this adventure.


Soon, you will run in raft the Chirripó River, Class III+, directed by certified expert guides in adventure activities.
The Chirripó River offers an excellent volume of water, many waves, expresses and continuous activity that will pump adrenalin.


We have combined the last techniques of security with extreme activities to create the safest and exciting adventure!

• Comfortable transport from San Jose, accompanied by an expert naturalistic and bilingual Guide, who will make the trip very pleasant of 50 minutes, with information and history of the zone.
• Arrival to the Chirripó River where it waits for an adventure of one hour and average in his expresses and waves to them, directed by expert Guides and certificates, that will make of the passage an unforgettable experience.
• They will enjoy a delicious buffet of fruits of the season, in half of the route, recreating with the natural beauties of the margins of the river.
• When finishing rafting will have the time necessary to the change of clothes and to continue the route.
• When arriving at the Cableway of the Rainy Forest - Atlantic for meeting in a primary and secondary forest, they will be received by naturalistic Guides, who will lead them in all the activities within the park.
• It visits the Suspension bridge where they will be able to admire the beauties of the Molinete River with its incredible variety of fish.
• The adventure and the adrenalin are united when making a true flight by the glasses of the trees in the CANOPY of 14 platforms and 10 cables that will take it to enjoy the beautiful views of the Zurquí Hill.
• After two activities of adventure and adrenalin, they will be able to taste a delicious Costa Rican traditional lunch, always surrounded by the green of our park.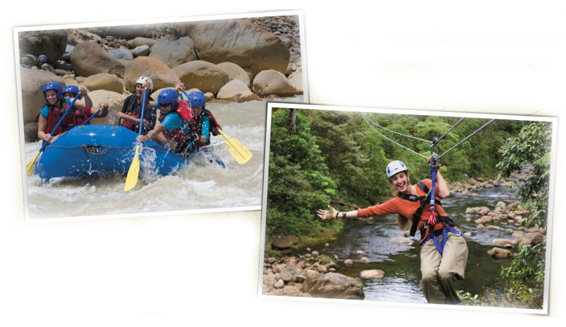 For rafting:
• Suit of bath or clothes that can be wet,
• shoes closed type crocks or
some type that has supported the water.

For canopy:
• To wear light clothes, shoes
• tennis, light shelter or
• impermeable,
• lotion against insects,
• binoculars and/or camera.

Smaller children of 12 years will not be able to do tour,
people with recent surgeries, weight greater to 250 pounds,
with physical incapacities,
under the effects of the alcohol or drugs.

Daily from San Jose
from 6am to 7pm

• Transportation
• Breakfast
• Lunch
• Profesional Equipment
• Canopy
• Rafting class 3
• Bilingual Guide