SAN LUCAS ISLAND:

The Gulf of Nicoya's archipelago paradise is made up of various islands that are home to nature's abundance. The area is a sanctuary for marine birds, with white sand beaches and flora and fauna native to our Central Pacific Coast. The world-renowned Isla San Lucas, and old prison of Costa Rica, wich is part of this beautiful archipelago.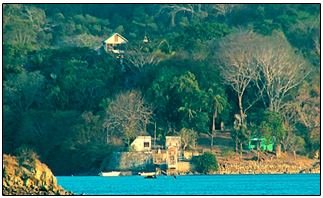 The area was the most famous prison of Costa Rica, in this tour, we are going to visit all the cells, medium and maximum security cells and the complete history of "The Lonely Men's Island", a book written by Jose Leon Sanchez, and old prisioner of this jail. This tour is a great opportunity to learn about the culture and the history of Costa Rica, and also, enjoy the nature of the pacific of Costa Rica, have a relax time in one of the most beautiful places of Costa Rica.
TORTUGA ISLAND:
Experience blue water, white sand, green mountains, superb cuisine and attentive personal service. Calypso's super catamaran, Manta Raya, will pass thru more than seven islands in the Gulf of Nicoya. Her Port of Call is the enchantingly beautiful, palm studded Tortuga Island where you can walk the impeccable white sand beach, swim in the turquoise waters and investigate the marine life while the crew prepares a sumptuous feast (featured in Gourmet Magazine).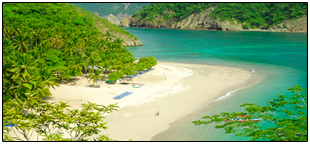 Enjoy dining in the shade of white umbrellas with tables covered in white linen.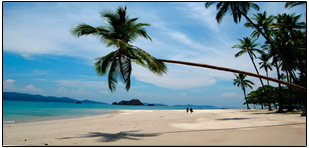 • Casual clothes
• Short &
• Sun cream
• Camara
• Sun glasses
• Hat
• Sandals snickers
• Bring money to bay drinks (alcohol)
• Souvenirs
• tours





06:00AM
Departure to San José

07:00AM
Breakfast in the bas

08:30AM
Arrival to Puntarenas
and departure to San Lucas Island

09:15AM
Arrival to San Lucas Island
and tour

11:30AM
Departure to San Lucas Island for Tortuga Island

01:00PM
Arrival to Tortuga Island, lunch

04:30PM
Departure to Tortuga Island
for Puntarenas

06:00PM
Departure to San José


-Transportation San José- Puntarenas- San José
-Acuatic transportation
-Tour guide
-Box breakfast
-natural drinks ceviche fruits
-Lunch at the Tortuga Island
-Visit to the Tortuga Island
-Entrance included
-Activities to choose: Snorkeling banana bote hike or beach chair

Valid until november 30 2017