Description
The catamaran Ocean King in Quepos is the most pleasant one in Central America. Despite a capacity of up to 300 passengers it sails with a maximum of 190 passengers to provide the best possible comfort and service. It has all necessary sailing licenses and policies. On board lifebelts and lifeboats are supplied to guarantee the maximum security.

Take pleasure in 2 Jacuzzis, 2 trampolines, 2 slides, an included snorkel tour, main lounge furnished with comfortable seating and luggage racks, 2 men's and 2 ladies' restrooms, showering and changing facilities, an open panoramic deck furnished with loungers that invite to sunbathe, relax or simply enjoy the passing scenery.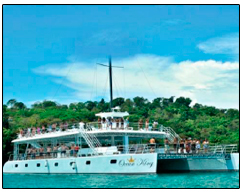 Included on board: sandwiches, cookies, soft drinks, 8 alcoholic drinks per person (4beers and 4 shots of vodka, rum or local sugar cane liquor Cacique). Non-alcoholic beverages UNLIMITED.

Fresh lunch: White rice, braised vegetables, pasta salad, sea bass filet in maracuya sauce and tortillas. Beverage to choice.
Tour: Starting from Marina Pes Velo the journey takes 4 hours. We pass by Isla Larga, Isla Damas, Isla Olocuitas and sail along national park Manuel Antonio. We try to see dolphins and whales who please us with their natural play. Especially in August, September and October.

In front of Bahía Vizanz we drop anchor to make use of the rich offer on board, go snorkeling and to enjoy the freshly prepared lunch.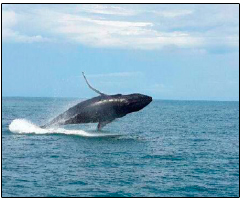 We will gladly be available for your private events both in the daytime and nighttime to offer our outstanding service to you, your guests, employees or clients.




All-inclusive day trip

Embarking at 2:00p.m.
Departure: 6:00 a.m. from
San José,

Alajuela or Heredia
6:00 p.m.

Return to San José
8:30 p.m.
Arrival in San José, Alajuela or Heredia


• Journey there and back

•Guide
• Typical breakfast: Gallo Pinto with 3 side dishes to choice, hot or cold beverage.
- 10:00 a.m.: Two hours on the beach Manuel Antonio
- 12:15 a.m.: Lunch at restaurant with ocean view: Casado, rice, beans, platanos, green salad, soft tortilla and to choice Fajita with chicken or sea bass filet (in butter sauce). Soft drinks.
- 1:40 p.m.: Arrival at Marina Pes Vela
- 2:00 p.m.: 4hours on board of catamaran Ocean King: Sailing along the cost of Quepos, passing by national park Manuel Antonio, Isla Olocuitas and various little islands.

• On board included: Fruits, cookies, soft drinks unlimited, 8 alcoholic drinks (4 beers and 4 shots of vodka, rum or Cacique)

• Snorkel tour included:
this tour is suitable for the whole family, all of the equipment is provided. Take the chance to see marine creatures from up close for example starfish, fish and crabs


Valid until November 30, 2017.