Description
The tour starts between 6:00 and 7:00 a. m when our microbuses pick up the adventurers in the main hotels of the metropolitan area.
A Costa Rican breakfast is offered at around 8:00 a.m. in a Paraíso, Cartago town restaurant with a spectacular view of the Orosi Valley.
Then we arrive to Tres Equis, Turrialba, a town where our guides wait for us with the equipment to start this wonderful adventure.
Each participant will receive a life jacket, a helmet and a paddle. One of the guides will give a safety speech and a small practice before facing whitewater rafting like Huacas, Cimarrones and Dos Montañas.
Pacuare is considered the most beautiful river in Costa Rica, and worldwide one of the best whitewater rafting rivers due to the scenic beauty, waterfalls, hiking trails and diversity of flora and fauna, among which participants will observe blue morpho butterflies, sloths, tucans, red frogs and great variety of birds. Thus, nature is present throughout the route.
This is a 3.5-hour journey with approximately 18 miles length.
The minimum age for participants is 12 years old.
Once the river journey is finished, our customers are moved to a restaurant in Siquirres, Limón for a shower and a typical lunch.
We return to San José and leave rafters in their hotels between 5:30 and 6:30 p.m.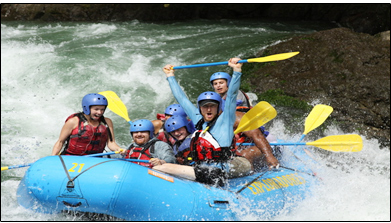 • Tennis shoes or strap sandals,

Change of clothes:
• one cotton shirt,
• shorts and swimsuit,
• One small towel,
• Waterproof sun block.

Daily from San Jose
from 6am to 7pm

• Transportation
• Breakfast
• Lunch
• Profesional Equipment
• Rafting class 3-4
• Bilingual Guide

Valid until October 31, 2017.