At 5:00 a.m. we begin our journey from San José to La Fortuna de San Carlos.
From La Fortuna we continue to Río Celeste where we witness a rare natural phenomenon: the river and its rocks are colored sky-blue.
This is the result of a chemical reaction caused by minerals of volcano Tenorio in the water.
It is truly one of the most peaceful places of the country.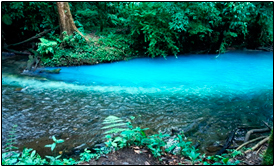 The hike takes all in all 4 hours (6km there and back). We visit the waterfall La Catarata de Río Celeste, the Teñidores, the observation point and the lagoon.

The weather here is unstable. Therefore it can be both very warm and rainy or even a little cold.
We finish off the day with a well-deserved, tasty, typical lunch (casado: chicken, beef or fish) at Hotel Catarata Río Celeste.

NOTICE: IN ALL PARTS OF THE PARK SWIMMING IS COMPLETELY PROHIBITED!
TERMALITAS
This family recreation center is located 5 kilometers west of the central park of La Fortuna de San Carlos toward the Arenal Volcano.
The complex has hot springs that are born in the volcano and offer a wonderful experi- ence in pools of different sizes and temperatures.
The Termalitas also feature cold plunge pools, hydro massage beds, slide, bathrooms, ranches with grills, drinking water and electricity, free parking, wet bar and restaurant. In this resort income food and beverage is allowed, however, has not daje options hospe- or camping area.

• Hiking shoes and a change of shoes
• Comfortable clothing and a change of clothes
• Insect repellent
• Towels
• Camera
• Waterproofs
-Sandals
-Bikini
-Sun cream
-Towel

• Transport
• Breakfast at the bus
• Lunch
• Snack (bottle of water and cereal bar)
• Entrance fee to Río Celeste
• Bilingual guide
-Entrance free to Termalitas hot springs