Description
The Gulf of Nicoya's archipelago paradise is made up of various islands that are home to nature's abundance. The area is a sanctuary for marine birds, with white sand beaches and flora and fauna native to our Central Pacific Coast. The world-renowned Isla San Lucas, and old prison of Costa Rica, wich is part of this beautiful archipelago.

Located 5.4miles from Puntarenas, Isla San Lucas with a land extension 500 hectares are maintained as a protected forest. The area was the most famous prison of Costa Rica, in this tour, we are going to visit all the cells, medium and maximum security cells and the complete history of "The Lonely Men's Island" , a book written by Jose Leon Sanchez, and old prisioner of this jail. This place owns 19 beaches, but only 4 of those are for tourist, for its unpolluted waters. This tour is a great opportunity to learn about the culture and the history of Costa Rica, and also, enjoy the nature of the pacific of Costa Rica, have a relax time in one of the most beautiful places of Costa Rica.
If you enjoy cruising, we invite you to experience the pleasure on board our new boat, The Bay's Princess, with a capacity for 50 passengers plus crew.
The Bay's Princess is built using the latest technology, including satellite navigation, and meets all international security requirements. We are the only boat that has the Stability Certificate issued by the International Register of Shipping, the rating entity recognized worldwide.
Our staff has been trained for emergencies and evacuation plans. Our yacht meets or exceeds all national requirements defined by the maritime division of the Ministry of Transportation and Public Works.
a. SAFETY PLAN
b. EVACUATION ROUTES
c. NAVIGABILITY CERTIFICATE
With our passengers' comfort in mind, our boat includes the following areas:
a. Main Deck: Our main salon has an incredible panoramic view, tables, bathrooms and a bar with delicious cocktails. The adventurous can visit the open-air deck at the bow of the boat to enjoy the sun, the fresh ocean breeze, and the spectacular view of the Gulf of Nicoya.

b. Lower Level: A private area for our crew, this level includes a kitchen equipped for catering special events.
c. Upper Deck: The wheelhouse is found on this deck, along with a sun deck, tables for the people who likes the sun.
Keep in mind that we can accommodate special events, including weddings, birthdays, incentive groups, Christmas and New Years' parties, and that these events can be scheduled for day or nighttime.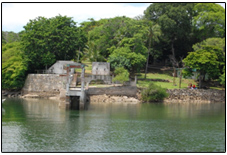 Our services include:
• Land and Water Transportation.
• Lodging in the hotel of your choice in the metropolitan area. (For groups, please consult our agents.)
• Specialized bilingual guide throughout the trip.
• Land transportation from San José to Puntarenas. (For groups, please consult our agents.)
• Maritime transportation on board our yatch, The Bay's Princess, which has two levels, each with its own ambiance, capacity for 50 passengers and a crew of 11 persons.
• Breakfast Box Lunch on the bus to Puntarenas: sandwich's, fruits, cookies and juice. In the tusristical pier of Puntarenas, we receive our passengers with coffee and cookies
• Aboard our yatch, enjoy tropical fruits, fish ceviche, natural fruit drinks, farewell cocktail and snacks.
• Buffet style lunch on the Jesusita island.
• Guided Tour on the Prison of San Lucas, entrance fees included.
• Birdwatching in Isla Pajaros.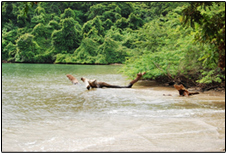 Safety and Equipment:
• Seven lifesaving rings, 75 adult and 20 child size life vests, 3 rafts with capacity for 10 passengers each; Both, captain and crew are highly trained professionals with evacuation certifications issued by Costa Rica Maritime Transport. Our captain has more than 15 years of experience.
Insurance Policies:
• Civil Responsibility insurance, covering both land and sea parts of the trip, and a policy for medical costs.
We offer an onboard bar, offering both national and foreign liquors. Passengers pay for bar service on the yacht, as well as for carbonated soft drinks. For groups, a $4.00 corking fee is charged per person; our bar provides glasses, ice and bartender. All liquor to be brought onboard should be brought to our offices for inventory and transport to Puntarenas 2 days in advance; unused inventory will be returned in San Jose on the first working day after the tour.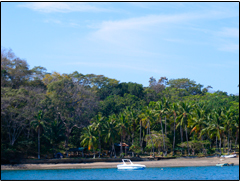 OUR LUNCH SERVED ON THE JESUSITA ISLAND (Included)
Appetizer: Two exquisite cold salads with their accompanying dressings
Entree: Delicious grilled fish filet and chicken breast served with garden rice, each served with a tasty sauce and accompanied by mixed vegetables. We take health, nutrition and flavor into account in the design of this meal.
Wine: Accompany our lunch with our complimentary glass of our exclusive house wine.
Dessert: Enjoy our delicious dessert accompanied by delicious Costa Rican coffee.


• Casual clothes
• Bathing suit or shorts
• Suntan lotion
• Camera
• Sun glasses
• Tight fitting hat
• Light weight long sleeved shirt
• Rubber sandals,
• tennis or boat shoes.

Don't forget your towels!

Extra Cash for:
• Alcoholic beverages,
• souvenirs, tips.

*High Healed or Hard Sole Shoes not permitted on board yacht

Saturdays and Sundays
from 6am to 8pm.

06:00 AM Picked up in San José

07:45 AM Breakfast (box lunch)

08:30 AM Arrival in Puntarenas

10:00 AM Arrival at Isla
San Lucas Prison

01:00 PM Buffet Lunch

04:00PM Departure from Isla
San Lucas

05:15 PM Return to Puntarenas

08:00PM Arrival in San José

• Transportation
• Box Breakfast
• Lunch at the Jesusita Island
• Ceviche, fruts, natural drink
• Visit to the Isla San Lucas
• Entrance Included
• Bilingual Guide

Valid until November 30, 2016.

Adults $98.00 pp (NORMAL RATE $105PP)
Children (3-11 years old) $70.00