Description
Get to know the details of this marvelous adventure
The Gulf of Nicoya has a beautiful archipelago that is home to seabirds, white sands, and the flora and fauna that make our Central Pacific coast so special. Within this group of islands, we find the world-famous Isla San Lucas, site of the highest security prison in our history, where human rights did not exist for the prisoners. The time when the prison was in use is known as the dark age of our justice system.

Located 12 miles from Puntarenas, near Kuru and across from Playa Organo, Isla Tortuga (Turtle Island) has an area of 120 hectares with 4 main hills and 500 meters of beachfront. It is maintained as a park and has won the Bandera Azul (blue flag), a distinction conferred in our country for excellent ecological conservation.
All of these ingredients combine to make our trip one of the country's great attractions. The archipelago amazes us from the yacht on our way to our destination: the paradise of Isla Tortuga (Turtle Island). Here, we spend approximately 4 hours during which you can enjoy a variety of activities including canopy, hiking, kayaking and snorkeling, or simply relax in the sun while our staff prepares an exquisite buffet lunch.
ONBOARD OUR YACHT, WE OFFER THE FOLLOWING COURTESIES:

• Tropical fruits and natural drinks
• Fish Ceviche and other snacks
• Live music and onboard dancing
Our passengers line up for our delicious buffet lunch
Served to your order with pleasure by our staff
Your full enjoyment is our main pleasure.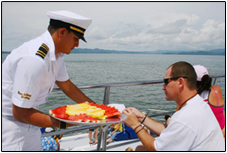 Optional Activities:

Snorkeling:
You can rent snorkeling equipment (to see in the crystalline waters) and enjoy the marvelous coral reefs, thousands of multicolored tropical fish, and the whole miracle of the undersea world.
Kayaking:

On the island, you can rent a kayak to explore the bay and be part of the dreamy scenery of the islands of Tolinga and Alcatraz.
We offer a variety of kayaks, including individual and tandem, as well as the glass-bottomed model that allows you to observe the area's great variety of marine species and lovely coral reefs. As if that weren't enough, paddling is magnificent exercise!

Banana boat and more:

Other activities for the whole family include banana and paddle boats, water bicycles and water mattresses.
These and all of our extras are offered to give you the best and most unforgettable stay in this Costa Rican natural paradise.

These services are offered by providers on the island and are not included in the price of our tour.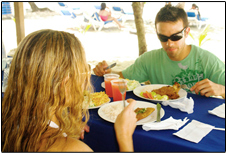 Beach chair

$7 per day

Eco Trail (hike 45min. Aprox.)

$5 per person

Snorkel Tour, equipment and boat (aprox. 45min)

$20 per person

Simple Kayak
Half hour
An hour

$5 per boat
$10 per boat

Double kayak or pedal boats
Half hour
An Hour


$8 per boat
$15 per boat

Jet Ski
An hour
Half hour
15 Minutes


$110
$60
$30

Tour Jet Ski near of island (45min. Aprox.)

$90

Paddle board (S.U.P)
Half hour
An hour


$10
$20

Banana Boat Ride

$6 per person

carpet water

$15 per day

Rental of lockers

$3 per day

Aquanautas

$60 per tour
• Casual clothes
• Bathing suit or shorts
• Suntan lotion
• Camera
• Sun glasses
• Tight fitting hat
• Light weight long sleeved shirt
• Rubber sandals,
• tennis or boat shoes.

Don't forget your towels!

Extra Cash for: Alcoholic beverages, optional tours, souvenirs,
tips.

*High Healed or Hard Sole Shoes not permitted on board yacht


Wednesdays, Fridays, Saturdays and Sundays from 6am to 8pm.

6:00 am Departure from San Jose

7:10 am Breakfast

9:15 am Arrival to Puntarenas

11:15 am Arrival at Isla Tortuga
(Turtle Island)

1:00 pm Buffet Lunch

4:00 pm Departure from
Isla Tortuga (Turtle Island)

5:45 pm Arrival at port in Puntarenas

8:30 pm Arrival to San Jose


• Transportation
• Box Breakfast
• Lunch at the Island
• Ceviche, fruts, natural drink
• 3 sodas
• Live music
• bilingual guide

Valid until November 30, 2017.